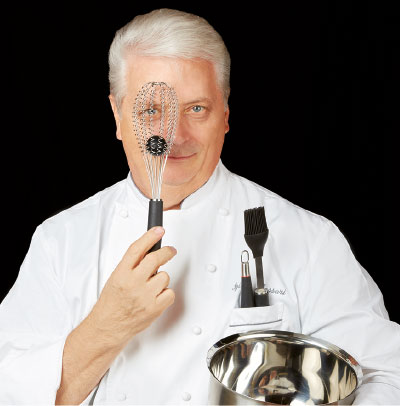 FIRST MAN,THEN PASTRY CHEF FIRST PHILOSOPHY THEN DESIGN
Engineering a line of pastry instruments signed "Iginio Massari" is first of all a challenge with yourself.
Be familiar with Iginio Massari, icon of the pastry chefs in the world, and you realize that any topic or strategy approach is not worth anything. You have to let carry in his world where culture fills every thought, accuracy is sprinkled with irony, experience blends with innovation. His friend - and journalist - Guglielmo Pelliccioli wrote about Him: «Pastry Chef you become, Mankind you are born». First Italian Pastry Master Chef at the Relais Dessert court, the prestigious French association that brings La Crème Internationale together, Iginio Massari - rare exception - is prodigal and generous in transmitting his knowledge, as proven by the disciples arisen from his school and the huge publishing output. So why not try? Why not try to grab the roots of his philosophy to turn them into instruments available to all those who, in confectionery art, consider themselves passionate lovers, tireless investigators, enthusiastic discoverers of techniques and recipes, proud givers of cakes and pastries? Thus was born the Pastry Precision Iginio Massari collection and the name itself underlines how meticulous expertise every instrument benefited, because any cake is the result of an exact science made of fusions and interactions between ingredients, balance of flavors, but particularly accurate and precise measurements and manual technique, for which each tool is essential.
So, as well as individual ingredients are transformed into an artistic cake, the Italian design shapes "La Pasticceria di Precisione" performing instruments with precise and elegant lines, which refer to the idea of accuracy and creativity, inseparable in the Massari-thought.
This is also connected to the excellent choice of materials: steel, silicone, polyurethane resins, selected woods, accurately chosen to endure usage, heat and time. Let now pastry making fans try this new recipe, in which the philosophy and knowledge of a great teacher and 75 years of product knowledge of our company have merged to offer instrument that please the most demanding palates.